.
"During the reign of Napoleon ... France reached the height of its power.
By 1807, after spectacular triumphs at Austerlitz, Jena and Friedland,
many Europeans believed the French were invincible.
The French Empire was eventually defeated, but memories
about the Napoleonic Wars lingered. Until World War I,
commanders and nations throughout the world hoped to
reproduce Napoleon's lightning campaigns."
- wikipedia.org 2005
The Imperial Army (1804 - 1815)
Gone were the republican days "when any officer
under the rank of major had had to hoof it with his men.
... Colonel Francois Roguet of the 1st Grenadiers...
has brought with him 6 servants, 12 horses and 2 wagons
filled with his personal effects ..."
(Austin - "1812: The March on Moscow" p 49)
France had been aggressive neighbor, and other nations (especially Russia, Austria Prussia, and Britain), were willing enough to see her weakened. The European powers formed alliance and France was forced to dramatically strengthen her army. Conscription was the solution. Generally speaking, under the empire 100.000 conscripts were called annually, which meant that about 1 name in 7 was drawn. The last conscripts to join their units en masse were those of 1814, whose call-up had been advanced to the preceding year. (Barbero - "The Battle" p 20, 26)
Conscription allowed the French to form the Grande Armee, what Napoleon called "the nation in arms", which successfully battled European professional armies. Under Napoleon many new regiments were formed, the discipline and morale greatly improved. The troopers were well dressed, fed, armed to teeth and very eager to fight. In 1805 the French army was the largest and the most powerful in Europe and in the World. The Napoleonic period (1805-1813) saw France's influence and power reach immense heights.
But gone were the republican days "when any officer under the rank of major had had to hoof it with his men. For the top brass alone the famous Parisian coach builder Gros-Jean has built no fewer than 300 carriages ... Colonel Count Francois Roguet of the 1st Grenadiers... has brought with him 6 servants, 12 horses and two wagons filled with his personal effects, among them books and a great many maps." (Austin - "1812: The March on Moscow" p 49)
The Glory Years 1803-1807
The French Grand Army demolished the
armies of the powers of Europe.
Their victories were easy and decisive;
Ulm, Austerlitz, Jena and Friedland.
During the early period of Empire (1803-1807) Napoleon's army reached its peak. Following the breakdown of the Peace of Amiens Napoleon took the opportunity to assemble an Army of the Ocean Coasts along the English Channel in preparation for an invasion of Great Britain. Approx. 100,000-150,00 troops (of total 450,000) gathered in training camps for 18 months and went through intensive training and maneuvers on large scale. The remaining 300,000 were spread along the long borders, busy with occupying Hanover, Italy etc. These fought in some small engagements like Maida etc.
The top class troops from Boulogne Camps and those occupying Hannover were put together and formed a new army that would soon become legendary - the Grand Army (Grande Armee). These troops had had close to 3 years of training and drill. Approx. 1/3 were veterans of at least 6 years' service. According to de Segur the old-timers could easily be recognized "by their martial air. Nothing could shake them. They had no other memories, no other future, except warfare. They never spoke of anything else. Their officers were either worthy of them or became it. For to exert one's rank over such men one had to be able to show them one's wounds and cite oneself as an example." They stimulated the new recruits with their warlike tales, so that the conscripts brightened up. By so often exaggerating their own feats of arms, the veterans obliged themselves to authenticate by their conduct what they've led others to believe of them.
'Even though a large part of the troops there were veterans, they began with a month of "refresher" training in the schools of the soldier and of the company. Then came 2 days of battalion and 3 days of division drill every week; on Sunday the entire corps drilled - infantry, cavalry, and artillery together. That training well absorbed, there were large-scale maneuvers twice a month. There was also much target practice; artillerymen were sometimes able to use British warships as moving targets. Davout added practice in night fighting and firing. (Elting - "Swords Around a Throne" p 534)
Napoleon also cleaned out the 'deadwood from among his officers', approx. 170 generals (too old, or simply incompetent) were retired. It left him with such talented generals like Massena, Davout, Lannes, St. Cyr or Suchet.
The soldiers of Boulogne Camps outmarched and outfought every opponent. This is not surprising that Napoleon was very proud of his army. In 1805 after the victory at Austerlitz he wrote: "Soldiers ! I am pleased with you. On the day of Austerlitz you have justified what I had expected of your intrepidity. You have decorated your Eagles with an immortal glory ...in two months the Third Coalition is conquered and dissolved." (After Austerlitz, Tsar of Russia Alexander was extremely depressed. He dismounted "and sat on the damp ground beneath a tree, where he covered his face with a cloth and burst into tears." (Chritopher Duffy - "Austerlitz")
Picture: Battle of Ulm, 1805. Through rapid marching, Napoleon conducted a large wheeling maneuver that captured an Austrian army under General Mack at Ulm. Napoleon had surrounded the Austrians and three days later Mack surrendered with 30,000 men. Some 20,000 escaped, 10,000 were killed or wounded, and the rest made prisoner. About 6,000 French were killed or wounded.
At the surrender, General Karl Freiherr Mack von Leiberich offered his sword and presented himself to Napoleon. The Ulm Campaign is generally regarded as a strategic masterpiece.
Picture: Battle of Austerlitz, 1805. It was one of Napoleon's greatest victories, effectively destroying the Third Coalition. Austerlitz Campaign profoundly altered the nature of European politics. In three months, the French had occupied Vienna, decimated two armies, and humbled the Austrian Empire. These events sharply contrast with the rigid power structures of the 18th century. Austerlitz set the stage for a near-decade of French domination on the European continent. Napoleon wrote to Josephine, "I have beaten the Austro-Russian army commanded by the two emperors. I am a little weary...." Tsar Alexander perhaps best summed up the harsh times for the Allies by stating, "We are babies in the hands of a giant."
Picture: Battle of Jena, 1806. Jena cost Napoleon 5,000 losses, but the Prussians had a staggering 25,000 casualties. On the same day, further north at Auerstadt, Marshal Davout defeated the main Prussian army. Napoleon did not believe that Davout's single Corps had defeated the Prussian main body unaided, and responded to the first report by saying "Tell your Marshal he is seeing double", a reference to Davout's poor eyesight. As matters became clearer, however, the Emperor was unstinting in his praise.
The decisive defeats suffered by the Prussian army a mere 19 days after its mobilization resulted in Prussia's elimination from the Fourth Coalition. The Prussians were scatterred all across the country and the remainder of the campaign was a mopping-up operation.
The campaigns however were costly, there were not only killed and wounded, but also injured and sick men. In 1806-7, during the campaign in Eastern Prussia and Poland: "The rank and file of the army was but little, if at all, past its best. In the earlier part of the campaign, its youngest men were the conscripts of 1806 who had, owing to their premature enrolment, already undergone a years' training. Many of the troops had been with Napoleon in his earlier campaigns and in Egypt, very many had been at Ulm and Austerlitz, the majority had just emerged from the briliant campaign of Jena. They were now preparing for a renewed war against fresh enemies; the hardest task that an army can undertake.

Even these hardened and enthusiastic warriors contemplated with dread the prospect of a fresh winter campaign in an inhospitable and difficult country, and Napoleon was often remonstrated with, as he rode alongside of his men, for insisting on their advance to Poland. To such complaints he would reply with the rough jests which his veterans loved to hear from him ... In action, the infantry was still splendid, and did not as yet require to be formed in deep columns of many battalions, such as was macdonald's at Wagram, three years later. The cavalry was excellent and well mounted, though, in the latter respect, they fell short of many Russian cavalry regiments. The artillery was highly trained and invariably made good practice." (Petre - "Napoleon's Campaign in Poland, 1806-1807" pp 27-28)
The battles of Eylau and Heilsberg were very bloody and inconclusive contest between the French and a mostly Russian army under Benigssen. At Heilsberg the French lost 12,000 killed and wounded. At Eylau they have suffered 15,000-25,000 killed and wounded, this is about 1/3 of their forces. Riding over the battlefield one of the French commanders said: "Quel massacre ! Et sans resultat" (What a massacre! And for no outcome.) The French soldiers cried out for peace after Eylau. Eylau was the first serious check to the French Grand Armee, which in the previous two campaigning seasons had carried all before it.
In spring 1807 though the weather was still severe, so Napoleon rousted his troops out of their winter quarters for drills and frequent field exercises. The army was weakened as many veterans were killed, wounded or sick and in hospitals. Meanwhile in France thousands of young men were called to arms. Napoleon caused these to be despatched to the front as soon as possible and they were drilled en route. The harsh winter campaign of 1806-1807 and the bloody battles at Eylau and Heilsberg exhausted the French troops mentally and physically.
Picture: Battle of Friedland, 1807. On 14th June, the French army finally scored a decisive victory over the Russians. By the end of the battle, the French were in complete control of the battlefield and the enemy was retreating over the Alle (Lyna), where many soldiers drowned while trying to escape. French casualties were approx. 7,500 while the Russians suffered almost 20,000 in dead and wounded.
The thorough destruction of Bennigsen's army persuaded Tsar Alexander to seek peace terms 5 days after the battle.
.
1808-1811.
"After 1808 fewer French soldiers
received extensive training."
- Colonel J. Elting
In this period the army was still in good shape, although not as good as few years ago. Much of the revolutionary ardour that had fired the French troops of the 1790s and early 1800s had been quenched by 1808. Napoleon himself sensed a lack of enthusiasm for the forthcoming campaigns.
In 1808-09, for the new war with Austria tens of thousands of new recruits joined the field armies. The influx of conscprits diluted the old ideals of austerity, self-respect and duty. After 1809 drunkenness and indiscipline increased, especially in the cavalry. They were hastily trained. "After 1808 fewer French soldiers received extensive training." (Elting - "Swords Around a Throne" p 534)
In 1809 Napoleon chastised the lack of discipline in some infantry divisions. He noted that since the battle of Wagram, Tharreau's division had attended neither battalion school nor target practice. Henceforth, the Emperor ordered, the men would perform the basics of the soldier's school and practice platoon drill each morning. They would fire 12 cartridges daily at the marks and for 2 hours in the evening perform battalion maneuvres. (Arnold - "Napoleon Conquers Austria")
Napoleon bolstered the morale of young soldiers by forming regimental artillery and attaching 2-3 light guns to every infantry regiment.
Picture: battle of Wagram, 1809. Artillery was a major factor in this battle and casualties soared above 80,000, with the Austrians losing slightly more than the French. Wagram was the first battle in which Napoleon failed to score an uncontested victory with relatively few casualties. This would be indicative of the gradual decline in quality of Napoleon's troops and the increasing experience and competence of his opponents, who were learning from previous errors. (- wikipedia.org)
The first provisional regiments, squadrons and battalions appeared already in October 1807. Napoleon, when he needed, took one or two squadrons/battalions from one regiment and one or two from another regiment, named a field officer and thereby formed a provisional regiment. Rarely these troops returned to their parent regiments. The temporary regiments had no Colors, no Eagles, no esprit de corps and no tradition. They served mainly in Peninsula against the Spaniards and the British.
Among the French troops occupying Spain looting was rampant, discipline was poor. The veterans were demoralized by plunder and waste and by the cruel war with Spanish guerillas. They had got out of the habit of being inspected. Training had fallen off during the years. Several hundred of veterans were selected from the troops in Spain and sent to join the Middle Guard. Although they looked good with tanned faces, some of them went around and stole things in Paris. General Michel arrested them and sent to prisons.
John Arnold wrote on the French failure in Spain: "A young French conscript, Phillipe Gille, provides a detailed account of the inadequate manner in which French soldiers were rushed to the front. Mobilized in France in 1808, Gille apparently did not even receive his musket until arriving at the Spanish border. There he joined a provisional unit composed of fellow conscripts, crossed the border, and soon engaged in combats with guerilla. ... During the Peninsula years, how large a numerical contribution to the French armed forces were conscripts such as Gille? For the decisive years 1808 to 1812, French annual conscript calls ranged from 181,000 to 217,000. During 1810 and 1811, when France was at peace in the rest of Europe, the majority of these conscripts went to the Peninsula and substantially diluted the quality of the French forces serving there. Simultaneously, troop quality declined further as veterans suffered some of the nearly 100,000 casualties sustained in the Peninsula in 1810-1811. The impact of this dilution is clearly stated by General Anne Savary. Savary's report on the 1809 Battle of Essling, where he fought with troops substantially better than the average Peninsula soldier, observes, "if instead of troops consisting of war levies [raw conscripts], we had opposed to them such soldiers as those of the camp of Boulogne [the Grande Armée], which we might easily have moved in any direction and made to deploy under the enemy's fire without any danger their being thrown into disorder". Innumerable Peninsular battlefields demonstrated this need....
The problem worsened as the Peninsula became a secondary front. A typical Peninsula regiment of 2,500 men would send 120 to 200 men back to France as a depot unit, 50 to the artillery, 10 to the gendarmes, and 12 of the best men to the Imperial Guard. These subtractions, coupled with the unprecedented guerilla-inflicted losses experienced in the never secure rear areas, seriously eroded the staying power of the infantry regiment. It got worse in 1811 and thereafter when Napoleon withdrew the best troops from the Peninsula to prepare for the Russian invasion." (Arnold - "A Reappraisal of Column Versus Line in the Peninsular War")
.
1812: Invasion of Russia.
The Grand Army of 1812 was almost as good
as the famous Grand Army of 1805. In 1812 however
there were less veterans in the ranks.
The army of 1812 was the most carefully and completely
organized force Napoleon had ever commanded.
In 1811, except the rather low-intensity guerilla war in Spain, Europe was in peace. Napoleon had time to train the young soldiers. They were clothed and well armed. The cavalry was supplied with thousands of German, Polish and French horses. The artillery and engineers were well equipped and trained. The Grand Army of 1812 was almost as good as the Grand Army of 1805. In 1812 however there were less veterans in the ranks. "The veteran troops were sadly diluted by the influx of recent recruits and the demands of the Spanish campaign. A similar expansion had occurred in 1809 when the French army was largely composed of new recruits. In both instances the recruits lacked the discipline and savoir faire to be able to sustain themselves in a foraging situation, but as the 1809 campaign was fought in Austria, the impact of this indiscipline on supplies was minimal compared to what it was to be in 1812." (Nafziger - "Napoleon's Invasion of Russia" p 88)
Before the campaign began General Dejean wrote to the Emperor that up to a third of the horses in cavalry were too weak to carry their burden, while nearly half of the men were too puny to wield a saber. Colonel Saint-Chamans wrote: "I was not happy with the way the cavalry was being organised. Young recruits who had been sent from depots in France before they had learnt to ride a horse or any of the duties of a horseman on the march or on campaign, were mounted on arrival in Hanover on very fine horses which they were not capable of managing." The result was that by the time they reached Berlin, the majority of the horses were suffering from lameness or saddle sores induced by the riders' bad posture or their failure to take care in saddling up. More than one officer noted that recruits were not taught about checking whether their saddle was rubbing or how to detect the early signs of saddle sores.
Napoleon however liked the big numbers of soldiers, even if they were young recruits mounted on weaker horses. He wrote: "When I put 40,000 men on horseback I know very well that I cannot hope for that number of good horsemen, but I am playing on the morale of the enemy, who learns through his spies, by rumour or through newspapers that I have 40,000 cavalry... I am preceded by a psychological force..."
Most military experts agree that the Grand Army of 1812 was the most carefully and completely organized force Napoleon had ever commanded. It had the most thoroughly prepared supply system (The baggage was hauled by 18,000 heavy draft horses). The army was also bigger than any other army Napoleon had before. One of the conscripts wrote: "Oh Father !, this is some army ! Our old soldiers say they never saw anything like it." But only half of the troops were French, the rest were made up of Poles, Italians, Germans, Swiss, and Austrians. Napoleon passed the Imperial Guard in review at Dresden, before a throng of vassal rulers, including many princes, five kings and one emperor (of Austria).
"... the 200,000 French soldiers arrived on the Niemen in company with 200,000 allies. ... assembled by this wonderful man, all disciplined warriors, and notwithstanding their different national feelings, all proud of the unmatched genius of their leader." (Napier - "History of the War in the Peninsula" Vol III, p 447)
Russia was a remote giant land with poor road system and once the campaign began there were numerous problems with supplies. "As supplies became scarce in 1812, discipline broke down and the control over the troops diminished. They plundered indiscriminately instead of carefully requisitioning the supplies they found. Surprisingly, the officers refused to take part in the excesses and often suffered to a greater degree than the men they led. This lack of discipline forced the inhabitants of the region to flee and hide those supplies that might have assisted the French army." (Nafziger - "Napoleon's Invasion of Russia" p 88, 1998)
The discipline of the troops decreased while the amount of stragglers and sick rapidly increased. At Niemen River Davout's I Corps had 79,000, but at Smolensk only 60,000. The situation in other troops was even worse. Ney's III Corps had 44,000 at Niemen and only 22,000 at Smolensk. Murat's Reserve Cavalry numbered 42,000 at Niemen and 18,000 at Smolensk. Before the army reached Moscow it lost half of its strength.
In the battle of Borodino more than 30,000 were killed and wounded. It was THE bloodiest battle of Napoleonic wars. But hunger, Cossacks and weather decimated the troops more than the regular Russian army. After Napoleon left Moscow the situation changed from bad to worse. The debris of the Grand Army which in June 1812 had crossed the Niemen River was now chased back by Cossacks and armed peasants. The Russians captured thousands of POWs.
GRANDE ARMEE in Borodino 1812
Commander: Emperor Napoleon
Chief-of-staff: Marshal Berthier
IMPERIAL GUARD - MARSHAL BESSIERES
- - - Infantry Division of Old Guard
- - - Infantry Division of Young Guard
- - - Division of Guard Heavy Cavalry
- - - Division of Guard Light Cavalry
- - - Guard Artillery
- - - Infantry Division of [Polish] Vistula Legion
R E S E R V E - C A V A L R Y (MARSHAL MURAT)
I CAVALRY CORPS - General Nansouty
- - - 1st Light Cavalry Division - General Bruyeres
- - - 1st Heavy Cavalry Division - General St.Germaine
- - - 5th Heavy Cavalry Division - General Valence
II CAVALRY CORPS - General Montbrun
- - - 2nd Light Cavalry Division - General Pajol
- - - 2nd Heavy Cavalry Division - General
- - - 4th Heavy Cavalry Division - General Defrance
III CAVALRY CORPS - General Grouchy
- - - 3rd Light Cavalry Division - General Chastel
- - - 6th Heavy Cavalry Division - General Lahussaye
IV CAVALRY CORPS - General Latour-Maubourg
- - - 4th Light Cavalry Division - General Rozniecki
- - - 7th Heavy Cavalry Division - General Lorge
I ARMY CORPS - MARSHAL DAVOUT
- - - 1st Infantry Division - General Morand
- - - 2nd Infantry Division - General Friant
- - - 3rd Infantry Division - General Gerard
- - - 4th Infantry Division - General Desaix
- - - 5th Infantry Division - General Compans
- - - Light Cavalry Division - General Girardin
III ARMY CORPS - MARSHAL NEY
- - - 10th Infantry Division - General Ledru
- - - 11th Infantry Division - General Razout
- - - 25th Infantry Division - General Marchand
- - - Light Cavalry Division - General Beurmann
IV ARMY CORPS - Eugene Beauharnais
- - - 13th Infantry Division - General Delzons
- - - 14th Infantry Division - General Broussier
- - - Light Cavalry Division - General Ornano
- - - Light Cavalry Division - General Preysing-Moos
- - - Italian Royal Guard - General Lecchi
V ARMY CORPS - Prince Poniatowski
- - - 16th Infantry Division - General Krasinski
- - - 18th Infantry Division - General Kniaziewicz
- - - Light Cavalry Division - General Kaminski
VIII ARMY CORPS - General Junot
- - - 23th Infantry Division - General Tharreau
- - - 24th Infantry Division - General Ochs
- - - Light Cavalry Division - General Hammerstein

"I have no army any more!" - Napoleon
"Of the 680,500 men that Napoleon had organized
for his invasion of Russia, barely 93,000 remained.
George Nafziger writes: "Of the 680,500 men that Napoleon had organized for his invasion of Russia, barely 93,000 remained. The main army had suffered the harshest casualties and had dwindled from 450,000 to 25,000 men. The flanking and rearguard forces under Schwarzenberg, Reynier, MacDonald, and Augereau had returned with a total of 68,000 men, but many of these men had not ventured very far into Russia, and those of Schwarzenberg, Reynier, and MacDonald had not been as heavily engages as the main army. Records suggest that 370,000 French and allied soldiers died either from battle or other causes, while 200,000 were taken prisoner by the Russians. Of those taken prisoner, nearly half died in captivity. Napoleon had taken 176,850 horses with him into Russia, and barely any of them survived the campaign.
The Russians reported burning the corpses of 123,382 horses as they cleaned up their countryside of the debris of war. So heavy were the horse losses that one of Napoleon's most serious handicaps in the 1813 campaign was his inability to reconstitute his once-powerful cavalry.
Of the 1,800 cannon taken into Russia, the Russians reported capturing 929 of them, and only 250 were brought out. The remainder were lost or thrown into swamps and lakes so that they might not be captured. Though the loss of cannons was serious, the loss of horses was more devastating to Napoleon. France's arsenals and industrial facilities would soon replace the lost weaponry. Of the 66,345 men that had belonged to Davout's corps in June 1812, there remained only 2,281. The 50,000-man Imperial Guard had been reduced to 500 men under arms and a further 800 sick, of whom 200 would never return to arms. Similar casualties were suffered by the II, III, and IV Corps ..."
Picture: Battle of Berezina, 1812. Napoleon's plan was to cross the Berezina and head for Poland, while the Russians wanted to trap him there. While some 25,000 French troops and a further 15,000 Russians became casualties, their losses paled next to that of the French stragglers, about 10,000. Approx. 10,000 were massacred by Cossacks, while another 20,000 died in the near freezing water or were crushed to death in the panic to cross the bridges. Since then Bérézina has been used in French language as a synonym of disaster (meet your berezina).
Many regiments ceased to exist. For example the 5th Regiment of Cuirassiers had 958 men present for duty on June 15th, 1812. On Feb 1st 1813 had only 19 ! The French cavalry never recovered from the massive loss of horses. Nine out of ten cavalrymen who survived walked much of the way home; most of those who rode did so on tiny, but tough, Russian and Polish ponies, their boots scuffing the ground. Napoleon wrote: "I have no army any more! For many days I have been marching in the midst of a mob of disbanded, disorganized men, who wander all over the countryside in search of food."
PS.
In 1812 Polish senior officer, Sokolnicki, was French army's intelligence chief. He thought that having thousands of warm uniforms stored in depots even before the campaign started was a must.
.
1813: Campaign in Germany
"Evidently, some of the new troops looked so bad
in drill while still at the training centers that the
populace referred to the army as the 'infants of the Emperor'
- General Savary
They were however filled with boundless confidence
in their leader whom they loved with unflagging devotion.
For his contemplated campaign in Germany, Napoleon required practically an entirely new army. It was not a case of a reorganisation of the army, for that once great force had almost ceased to exist. French military was in crisis and scrambling to raise men as quickly as possible. Napoleon turned to every possible resource at his disposal that could produce manpower, and do this quickly. It required not only time and energy but also money. The expense of organizing only the Guard amounted to 18,000,000 francs. Military service was unpopular, in the west of France it became necessary to hunt up the refractaires with mobile columns, and the generals reported that they were afraid to use their young sldiers for this purpose.
The new army was huge but the 18- and 19-years old soldiers lacked stamina and the rapid marches and hunger weakened them physically. Camille Rousset gives the following as a common type of report on inspection: "Some of the men are of rather weak appearance. The battalion had no idea of manouveruring; but 9/10 of the men can manage and load their muskets passably."
General Lambardiere writes: "These battalions arrive fatigued, every day I supply them with special carriage for the weak and lame ... All these battalions are French; I must say that the young soldiers show courage and good-will. Every possible moment is utilised in teaching them to load their arms and bring them to the shoulder." So poor were they in physique that the Minister of Police protests against their being drilled in the Champs Elysees during the hour of promenade, on account of the scoffing and jeering they gave rise to.
After the disastrous campaign in Russia the quality of cavalry was low. There were too many young soldiers, hastily trained, and hardly 10-20 % of the officers were classed as capable. Retired officers had been recalled, many old NCOs had been promoted lieutenants. Nearly 80 % of the new cavalrymen had never ridden a horse. In Hamburg the young cuirassiers having been ordered to leave on reconnaissance and after few minutes all were dismounted, with their horses running free in the streets. The Germans laughed openly.
The high stress suffered during military campaign (they were put into action without full training) exhausted many of them.
They fell sick by hundreds, there were also deserters and stragglers. Special detachments were formed to catch the stragglers and find the weak and 'make them walk'. In Paris alone 320 soldiers of Young Guard were arrested for desertion and sent to prisons. During Emperor's journey from Dresden, through Gorlitz to Bautzen, he saw the German roads and villages choked with thousands of stragglers. Napoleon was outraged and issued the following order: "Every soldier who deserts his flag betrays the first of his duties. As a consequence, His Majesty orders: Article 1. Evry soldier who deserts his flag without legitimate cause will be subject to decimation. To this effect, as soon as 10 deserters are returned the generals commanding the army corps will have them draw lots, and have one shot." Bautzen. 6 Septeber 1813 Napoleon." (Bowden - "Napoleon's Grande Armee of 1813" p 160)
"The strength and physical stamina of the young conscripts, and consequently the quality of their regiments, left much to be desired; they could not march like the veterans, fell easy prey to sickness, and the standard of their training when they left the depots in the spring 1813 was frighteningly low. The ability of battalions to manoeuvre was poor, and many recruits could not even load their muskets. When the reinforcements drafts marched to the front, carts had to follow them to pick up the footsore and the exhausted." (Digby-Smith, - p 29)
"The levy, calling upon the adolescents of France one full year before they normally would have been eligible for military service clearly illustrates Napoleon's desperate need for numbers of troops. " (- Bowden p 31)
The new units were thrown together quickly and their men had not had the necessary time to form the interpersonal bonds within their companies that gave them the morale strength necessary to wage war successfully. Despite these problems, the army's morale was generally high. Many of the young troops who stayed in the ranks, were filled with boundless confidence in their leader whom they loved with unflagging devotion. The few veterans had regained their faith in Napoleon. The artillery and engineers were as usual excellent. When led by Napoleon in person the young soldiers won every battle (Lutzen, Bautzen, Dresden) Without Him they were routed at Kulm, Dennewitz and Katzbach.
Picture: battle of Leipzig, 1813. Leipzig was the biggest battle of the Napoleonic Wars. Soldiers of more than 20 nationalities were present on the battlefield. The casualties were heavy. Teacher Sander's son writes: "Everywhere there lay thousands of dead and the returning peasants had to burry them. Big pits were dug in the village and in the surrounding fields, each designed to hold 40-50 dead. ... "
It was one of the very few battles in which Napoleon was clearly defeated. It resulted in the destruction of what was left of French power in Germany and Poland. Never again Napoleon's army went into Germany. Digby Smith writes: "The effects of the Allied victory at Leipzig were truly momentous. It had smashed Napoleon's stranglehold on Europe for good ..."
.
1814: Campaign of France.
Many of Napoleon's marshals were weary
and some defected to the Allies.
Paris was taken by storm by the
Russian and Prussian troops.
"A decree ordering a levy of 300,000 soldiers was made, and another augmenting the Guard to 112,500 men... The levy, however, was not successful. France was exhausted not only of her men, but even of her youth, and boys were now in his greatest need to form his battalions. To add to his trouble, as fortune always seems to delight in pushing down a falling favorite, the Typhus fever broke out among his troops along the Rhine." (Headley - "The Imperial Guard of Napoleon")
A handful of heroes faced all of Europe to whom they themselves had taught the art of fighting over the past decade. Napoleon had mixed feelings about his troops in 1814. He wrote: "The Old Guard alone stood firm - the rest melted like snow." The lack of weapons and uniforms was one of the characteristics of the French troops during this war. Napoleon wrote that the peasants had picked up on the battlefields thousands of muskets abandoned by the enemy and that commissioners should be sent to collect them. In default of muskets there were 6.000 pikes manufactured.
Allied armies were advancing into France from every direction. With an army of only 50,000-75,000, the Emperor was faced with half a million Allied troops commanded by Barclay de Tolly, Schwarzenberg and Blucher. Napoleon put up an impressive performance, fighting on average a battle or skirmish every day, and winning many of them (Champaubert, Montmirail, Chateau-Thierry, Vauchamps etc.) However, his victories were not significant enough to make any changes to the overall strategic picture, and Allies army eventually captured Paris.
Many of Napoleon's marshals were either weary or downright prophets of doom. In the end of campaign some defected to the Allies. Paris was taken by storm by the Russian and Prussian troops. Out of frustration, Marshal Marmont surrendered his troops to the Allies and allowed them to enter Paris unabated. For this action (or lack thereof) Marmont was (and still is) considered, by most French, as a traitor.
At Fontainebleau, Marshal Michel Ney became the spokesman for the marshals' revolt on 4 April 1814, demanding Napoleon's abdication. Ney informed Napoleon that the army would not march on Paris; Napoleon responded 'the army will obey me!' to which Ney answered 'the army will obey its chiefs'. Napoleon abdicated on April 6. However, occasional military actions continued in Italy, Spain, and Holland throughout the spring of 1814. Part of the French army was very unhappy with the new situation.
.
1815 - Hundred Days Campaign.
"There was a prodigious gap between them (soldiers of 1815)
and our old soldiers from the Camp the Boulogne."
- Desales, officer of artillery of Erlon's I Corps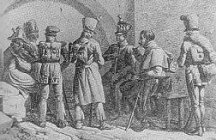 Picture: French POWs in Austrian custody: the sentry on extreme right is a Hungarian infantryman. Picture by J.A.Klein.
Some authors claim that the French army of 1815 was Napoleon's best and composed of battle hardened veterans. According to Henri Lachouque however "not all the discharged veterans returned. Some had been spoiled by civil life." (Lachouque - "Anathomy of Glory")
Captain Duthilt thought the soldiers who had suffered the defeats of the emperor's recent campaigns and the returned prisoners of war from Russia had lost a great deal of their enthusiasm. A call for volunteers produced only some laughable 15,000 men.
The army in 1815 was composed of soldiers who had at least one campaign behind them, although in the eyes of veterans of Austerlitz and Egypt, the soldiers of 1814 still seemed like little boys. (Barbero - "The Battle" p 20)
There were French eyewitnesses who stated that many regiments included a high percentage of young soldiers who had never been under fire. General Lamarque complained that the Young Guard were filled with recruits and deserters who neither knew how to maneuver nor shoot. (Lasserre - "Les Cent jours en Vendée: le général Lamarque et l'insurrection royaliste, d'après les papiers inédits du général Lamarque." published in 1906.)
In 1815 the discipline was poor, the old timers were annoyed and complained that the young men went out with girls or got drunk. The army was hastily assembled, lacked uniforms and shoes. Many soldiers wore civilian clothes under their greatcoats and forage caps instead of shakos. "For lack of shakos the 14th Light Regiment would fight the Waterloo campaign in fatigue caps." (Austin - "1815 the return of Napoleon" p 295)
In some infantry regiments only the grenadiers were issued bayonets. Some cuirassiers had no armor. "The 11th Cuirassiers fought without them at Waterloo ... Shoes, twenty regiments had none." (Adkin - "The Waterloo Companion" p 24)
In 1815 the French cavalry was impoverished and had considerably scaled back the strength of cavalry regiments. By contrast England had always good horses and the financial means to obtain more of them wherever they might be found.
Worst of all, several French top rank commanders defected to the Allies already before the campaign started! For example General Bourmount rode directly over to the Prussians and surrendered with five of his staff. The old camaraderie of the French troops was replaced by suspicion. "The soldiers were upset at the excessive number of senior officers who had betrayed, or who were suspected of being ready to betray the emperor... The troops had neither confidence in their commanders nor the ability to accept discipline." (Barbero - "The Battle" pp 277-278)
At Waterloo a French officer deserted to the Allies and informed about Napoleon's plans. "The soldiers doubted the loyalty and competence of many senior officers. They resented officers being promoted merely for going over to the Emperor while they received nothing for doing the same. Six officers of the 1st Cuirassiers who had been rewarded in this way were greeted with groans and shouts on parade. The 12th Dragoons petitioned the Emperor requesting, "... the dismissal of our colonel, whose ardour in the cause of Your Majesty is by no means equal to our own." (Adkin - "The Waterloo Companion" p 78)
But not only officers and generals defected to the enemy, there were deserters even from the Old Guard. They formed so-called "Bourbon Cavalry Corps". With them served deserters of cuirassier and dragoon regiments. This unit was under Wellington's command but not present at Waterloo.