Hussars
[Husaren]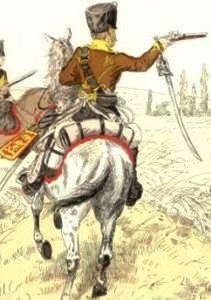 The Prussian hussars were of awerage height and rode on smaller but agile horses. If they were not as disciplined and trained as dragoons and not as strong and robust as the cuirassiers, the hussars were the most dashing. They participated in the boldest actions, went through the most difficult situations, skirmished and scouted. The hussars distinguished themselves in numerous battles, including Heilsberg, Leipzig, Mockern and Ligny.
In 1806 were 10 hussar regiments, in 1812 only six.
In 1815 the regiments of National Cavalry became regular regiments, and six of them went into hussars. In 1815 Prussia had a total of 12 hussar regiments. The 11. '2nd Rhenish' was formed from Berg troops: 1st, 2nd and 3rd Hussar Regiment. The 12th Hussar Regiment was formed from two Saxon hussar regiments and some militia.
Death's Head's Hussars - "Totenkopf-husaren"
One regiment stood out above the others. It dressed in black and took as its badge a skull. The regiment became known as the Death's Head Hussars and struck fear into the enemy for many years. It was the 1st Life Hussar Regiment (1. Leib-Husaren-Regiment) The chefs of this unit were: 1804-1808 von Prittwitz, 1808-1840 His Majesty Friedrich Wilhelm III. The commanders: 1803 - Lossow, 1806 - Pfuhl, 1809 - von Czerdaheli, 1812 - Sandrart
The 1st Life Hussar Regiment participated in record number of combats: 66 !
1806 - Drobin, Sierps, Biezun, Mlawa u. Soldau, Lahna, 1807 - Schippenbeil, Lennenburg, Waltersdorf, Wackern, Eylau, Braunsberg, Wusen (Vorpost.), Albrechtsdorf, Danzig (Gdansk), Spanden, Dietrichsdorf, Heilsberg, Gollau and Königsberg, 1812 (as Hus. R. Nr. 1 under Major von Cosel) - Poniewiesz, Borusk (Bobrujsk ?), Wyszki (part of regiment), Czeszawen, Garossenkrug (part of regiment), Neugut (part of regiment), Schöppingsmühle and Baldohnen, Neumühle (part of regiment) and Friedrichstadt, 1813 - Dannigkow, Magdeburg, Bernburg, Halle (Jäg. Sq.), Friedeburg (1. Sq.), Luckau (Jäg. Sq.), Kalau, Hoyerswerda, Luckau, Großbeeren, Jüterbog, Klausdorf, Dennewitz, Burgxdorf, Streumen, Colmitz, Treugeböla, Leipzig, Zütphen, Gorkum, Heusden, Herzogenbusch, Breda, Bavel, Doest and Ypelaer (part of regiment), 1814 - Hoogstraten and Turnhout, Antwerp, Lier, Condé, Soisson, Fontenay, La Fère Champenoise, Jonville and Compiègne.
The 2nd Life Hussar Regiment was formed in 1808 by taking 4 out of 8 squadrons of 1st Life Hussars. It participated in 36 battles.
Weapons of Hussars
The hussars were armed with curved sabers and carbines. Pistols were carried by NCOs and trumpeters.
Uniforms of Hussars
Hussars' uniforms were the most expensive and ... gave them an advantage when it came to conquering women's hearts. Until 1806 the officers of Guard hussars on parade wore red-lined panther skins. During campaign however the hussars wore grey overalls over their tight breeches, the black shako was protected by a black oilcloth. The sabretache was of brown leather and having a flap with a poppy red cover. The waist sashes were of the same color as the dolman collar. Officers wore silver-and-black sashes. The hussars used black sheepskin saddle cloth with a poppy red "wolf's teeth" trim. These items were replaced in 1815 by rounded saddle cloth with pointed corners.
The dolman and pelisse were in the same color. The pelisse of the hussars had white fur, but black for the Normal-Husaren-Eskadron. In 1815, pelisses of the 2. Leib-Husaren-Regiment [No. 2 in the army list], as well as the 7., 8., 9., 10. and 12. Regiment also got black fur. NCOs had black fur, but this was changed in 1815 and from that year onwards their fur was of the same colour as that of the men. Officers had grey "Baranken" (fur of Russian lambs). In 1815 in those of regiments with black fur the fur of officers became black, too, the officers in the white fur regiments retaining the "Baranken".
Uniforms of Prussian Hussars
~ 1815 ~
Regiment
Dolman & Pelisse
Collar & Cuffs
Buttons & Cords
Saddle
Cloth
Stripes
(on saddle cloth)
1. Life
"Death's Head"
Black
Poppy
Red
White
Black
Poppy
Red
2. Life
Black
Black
White
Black
Black
3.
Dark
Blue
Poppy
Red
White
Dark
Blue
Poppy
Red
4.
Brown
Brown
Yellow
Brown
Yellow
5.
Dark
Blue
Dark
Blue
Yellow
Dark
Blue
Dark
Blue
6.
Green
Poppy
Red
Yellow
Green
Poppy
Red
7.
Black
Poppy
Red
Yellow
Black
Poppy
Red
8.
Dark
Blue
Light
Blue
Yellow
Dark
Blue
Light
Blue
9.
Corn
Blue
Corn
Blue
Yellow
Corn
Blue
Corn
Blue
10.
Green
Light
Blue
Yellow
Green
Light
Blue
11.
Green
Poppy
Red
White
Green
Poppy
Red
12.
Corn
Blue
Corn
Blue
White
Corn
Blue
Corn
Blue